Everything delicious I know about Indian food, I learned from Madhur Jaffrey.
She is a goddess. This recipe is based on two recipes from her Indian Cooking book, Lemony Chicken with Fresh Coriander and Aromatic Yellow Rice.
Anyone I've ever made these for loves them and they turned out amazing in the thermal cooker.
You start by browning chicken chunks in your large pot with some oil. When they're lightly browned but not cooked through, add your minced garlic, jalapeno, ginger paste, and spices.
Cook them for a minute until the spices are nice and fragrant.
Then add your liquids. Bring everything to a boil. When it's boiling hard, to the point that it can't be stirred down, let it continue to boil for three minutes. Then place the large pot in the cooker, cover and seal.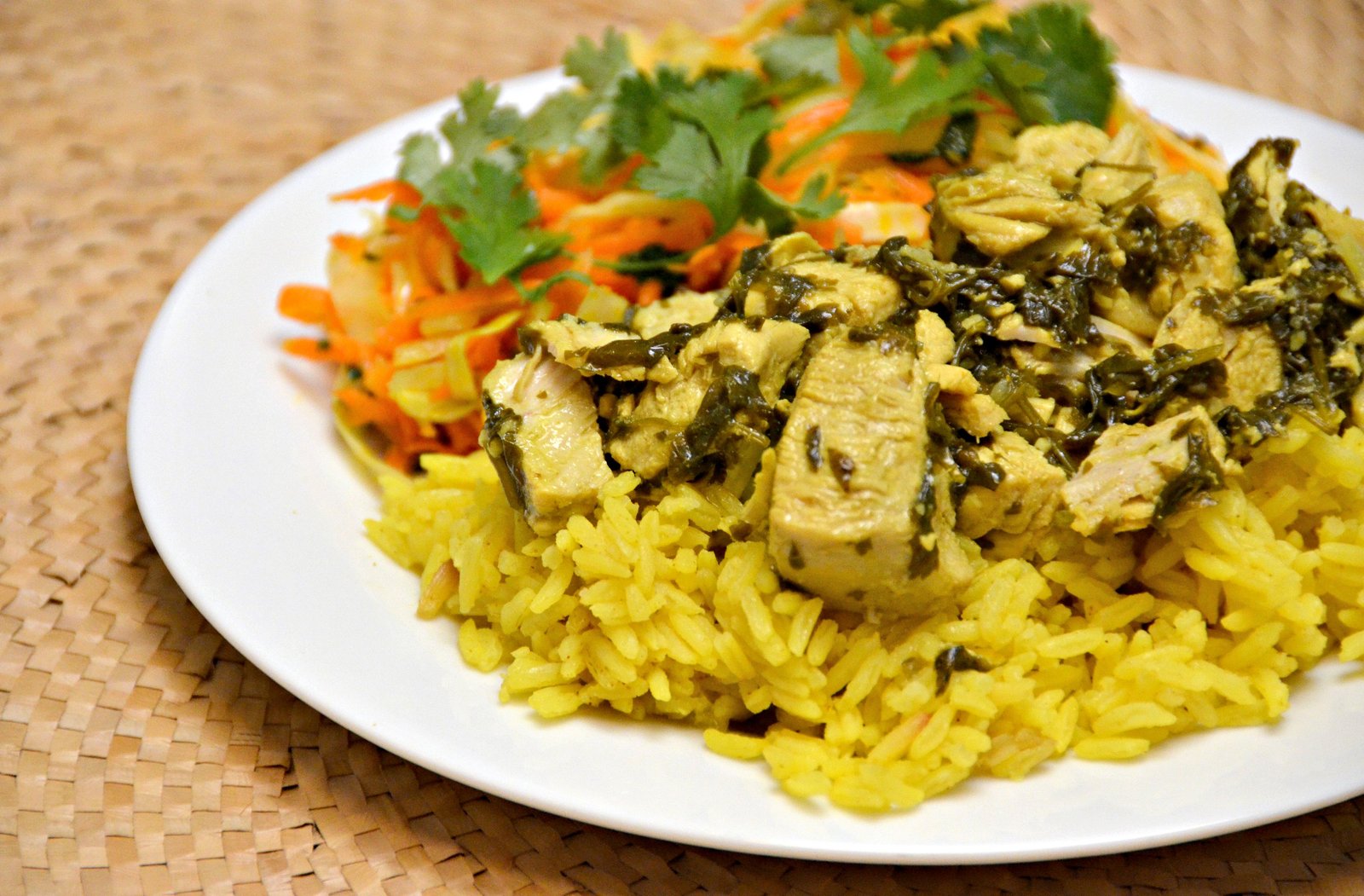 Yellow Rice
If you are make yellow rice as well in the upper pot (both recipes are included in this post.), start water boiling as the chicken finishes browning. Add rice and spices to the boiling water and boil for three minutes as well.
Nest the smaller rice pot inside the larger chicken pot.
Cover.
Seal.
Let cook.
This should be ready in 2 hours but can continue to cook for up to 8, depending on how heat efficient your personal thermal cooker is.
Indian Lemon Cilantro Chicken and Yellow Rice
Ingredients
4 1-inch cubes fresh ginger peeled and coarsley chopped
8 Tbsp plus 2 Cups water
6 Tbsp vegetable oil
4 chicken breast halves, cut into 1-inch pieces
1 heaping Tbsp minced garlic
5 bunches fresh cilantro
1/2-1 fresh jalapeno
1/4 tsp cayenne pepper
4 tsp ground cumin
2 tsp ground coriander
1 tsp ground turmeric
2 tsp salt, or to taste
1/4 cup lemon juice
Rice Ingredients
2 1/2 cups rice
4 cups water
1 tsp salt
3/4 tsp turmeric
3-4 whole cloves
1 cinnamon stick
3 bay leaves
3 Tbsp butter, cut into small pats (optional)
Instructions
Blend ginger and 8 Tbsp water in an electric blender or food processor.
Heat the oil over medium heat in your large thermal cooker pot.
Add chopped chicken pieces and lightly brown.
Add garlic, ginger paste, jalapeno, and dry spices to pot with chicken and stir for 1 minute.
Add 2 cups water, fresh cilantro, and lemon juice.
Bring to a boil.
When the liquid is boiling so hard it cannot be stirred down, set a timer for three minutes and boil while stirring frequently.
Remove pot from heat, put a lid on it, and seal it in your thermal cooker.
Remove and serve over rice after 2-8 hours in the cooker, depending on how long your cooker will safely keep it warm.
If you're making rice, boil water.
Add rice and spices and boil hard for 3 minutes.
Place rice pot nested inside chicken pot.
Cover with lid, seal in thermal cooker, and let cook for 2-8 hours.
When ready to serve, fluff rice with fork and mix butter into the rice.
7.8.1.2
8
http://thermalcookerrecipes.com/indian-lemon-cilantro-chicken-and-yellow-rice/
Copyright ThermalCookerRecipes.com
Thermalcookerrecipes.com provides recipes as a resource and educational tool only, and makes no food safety guarantees. We are not liable for any failure to meet food safety standards that may arise in your thermal cooking. We make every effort to ensure that our recipes meet established food safety standards. But all thermal cookers are not created equal, and there are many variables at play resulting in the temperatures reached and maintained in your thermal cooker. Always follow the manufacturer's instructions for your specific brand and model of thermal cooker, even if that means tailoring our recipes.
If you are in doubt, please consult the FDA page on foodborne illness for safe cooking temperatures and other safety tips. And use a food thermometer to ensure that your food has been cooked and stored at a safe temperature.
Disclosure: This post may contain affiliate links. This means, we may receive a small commission if you choose to purchase something from a link we post. Don't worry, it costs you nothing. Thank you for supporting our website!