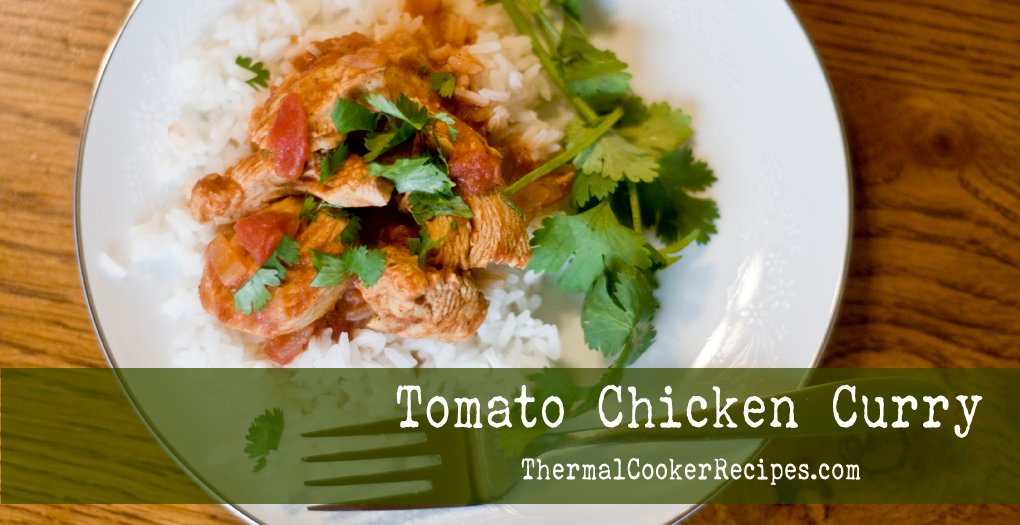 This recipe is a family favorite. I invented it a couple of years ago, and we have loved it in the pressure cooker and the slow cooker. It is a perfect recipe to transition over to the thermal cooker. You can click here to purchase your thermal cooker. And of course, thermal cooker curry is the perfect meal to take along on a potluck or soccer night. It's warm and delicious, and can stay piping hot with its perfectly cooked rice, all in one pot. It definitely takes one-pot-cooking to a whole new level.
And as far as instructions? Well this one is really complicated—for a thermal cooker recipe. It involves exactly five simple steps.
Cut the chicken into bite-sized pieces, dump all ingredients into the large nesting pot, except the tomato paste.
Bring the whole pot to a rolling boil for 3 minutes (or however long your pot's manufacturer's instructions instruct) stirring frequently.
Add in tomato paste, and bring back to boil for 1 minute, stirring constantly.
Cook your rice in smaller nesting pot at same time.
Put both pots into your thermal cooker, put the lid on, and seal. Leave for 3-8 hours, and then open for perfect dinner!
Thermal Cooker Tomato Chicken Curry
Ingredients
2.5 - 3 lb boneless, skinless chicken breasts, thawed and cut into bite-sized pieces
1 14 oz can diced tomatoes
1 C chopped onions
2 T olive oil
1/2 T finely shredded ginger
1/2 T minced garlic
1 tsp salt
1 T Mae Ploy Yellow Curry Paste
1/2 tsp cumin
1/2 tsp paprika
1 T lemon juice
1/4 tsp red pepper (optional)
1/8 tsp cloves
1/2 tsp cinnamon
2-3 C water (just enough to cover mixture with liquid)
1 can tomato paste
Instructions
Mix all ingredients, except for the tomato paste in large pot.
Bring to a rolling boil for 3 minutes, stirring frequently.
Add tomato paste, mix well, and return to rolling boil for 1 minute, stirring constantly.
Prepare rice at same time as boiling mixture. Put both pots directly into the thermal cooker, put on lid, seal, and open 3-8 hours later. (Always consult the manufacturer directions for your brand of thermal cooker for actual cooking times to ensure food is kept at a food safe temperature.
7.8.1.2
5
http://thermalcookerrecipes.com/thermal-cooker-tomato-chicken-curry/
Copyright ThermalCookerRecipes.com
Thermalcookerrecipes.com provides recipes as a resource and educational tool only, and makes no food safety guarantees. We are not liable for any failure to meet food safety standards that may arise in your thermal cooking. We make every effort to ensure that our recipes meet established food safety standards. But all thermal cookers are not created equal, and there are many variables at play resulting in the temperatures reached and maintained in your thermal cooker. Always follow the manufacturer's instructions for your specific brand and model of thermal cooker, even if that means tailoring our recipes.
If you are in doubt, please consult the FDA page on foodborne illness for safe cooking temperatures and other safety tips. And use a food thermometer to ensure that your food has been cooked and stored at a safe temperature.
http://www.fda.gov/food/foodborneillnesscontaminants/buystoreservesafefood/ucm255180.htm
Disclosure: This post may contain affiliate links. This means, we may receive a small commission if you choose to purchase something from a link we post. Don't worry, it costs you nothing. Thank you for supporting our website!