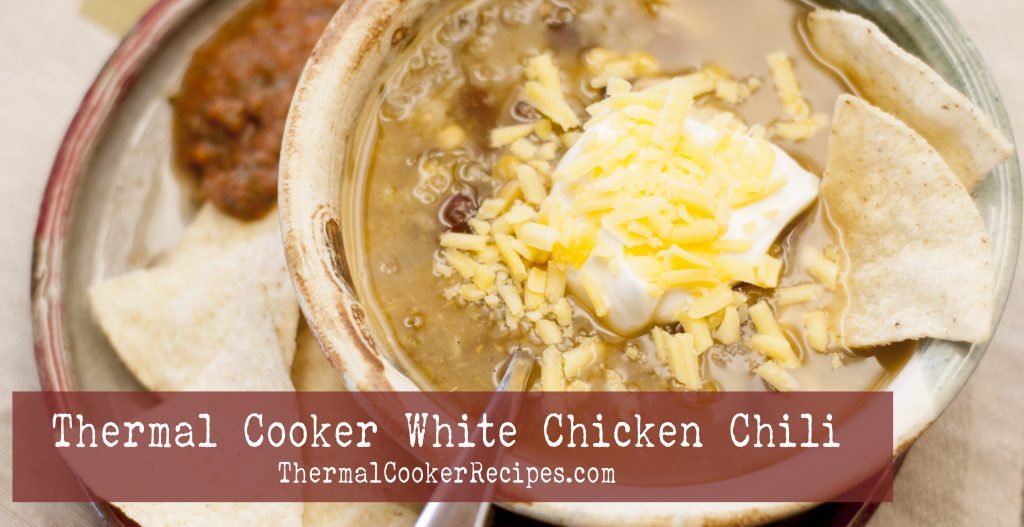 Before I tell you that this Chicken Chili will change your cooking life, I almost feel like we need to start having verbage at the start of these posts that's standard, and that informs you that this recipe will seem abnormally simple. Because . . . thermal cooking, people. Thermal. Cooking! It's all simple
No, it's not your go-to if it's five pm and you forgot to cook dinner. It's a slow-cooking method, which means you need time.
But not time that you personally have to spend. And not a clock that you have to watch, stressed out that you'll mess up the timing. You will not mess up the timing. You will remember in 2-8 hours that your dinner is cooking, and you will be hungry, and you will open your thermal cooker, and you will be ready to eat your perfectly cooked meal.
And in the case of this, and many other recipes, you will have spent approximately ten minutes in the morning throwing things in a pot, five minutes boiling said "things," and the whole day knowing that dinner is happily cooking in your thermal cooker on your counter or in your van or in your campsite.
This particular recipe is a family favorite from FOREVER ago. Kate first cooked it for me the week I came home from the hospital with my now-twelve-year-old daughter. All of our extended family makes this one over and over. It wins cookoffs. It wins hearts. It wins more a certain would-be president.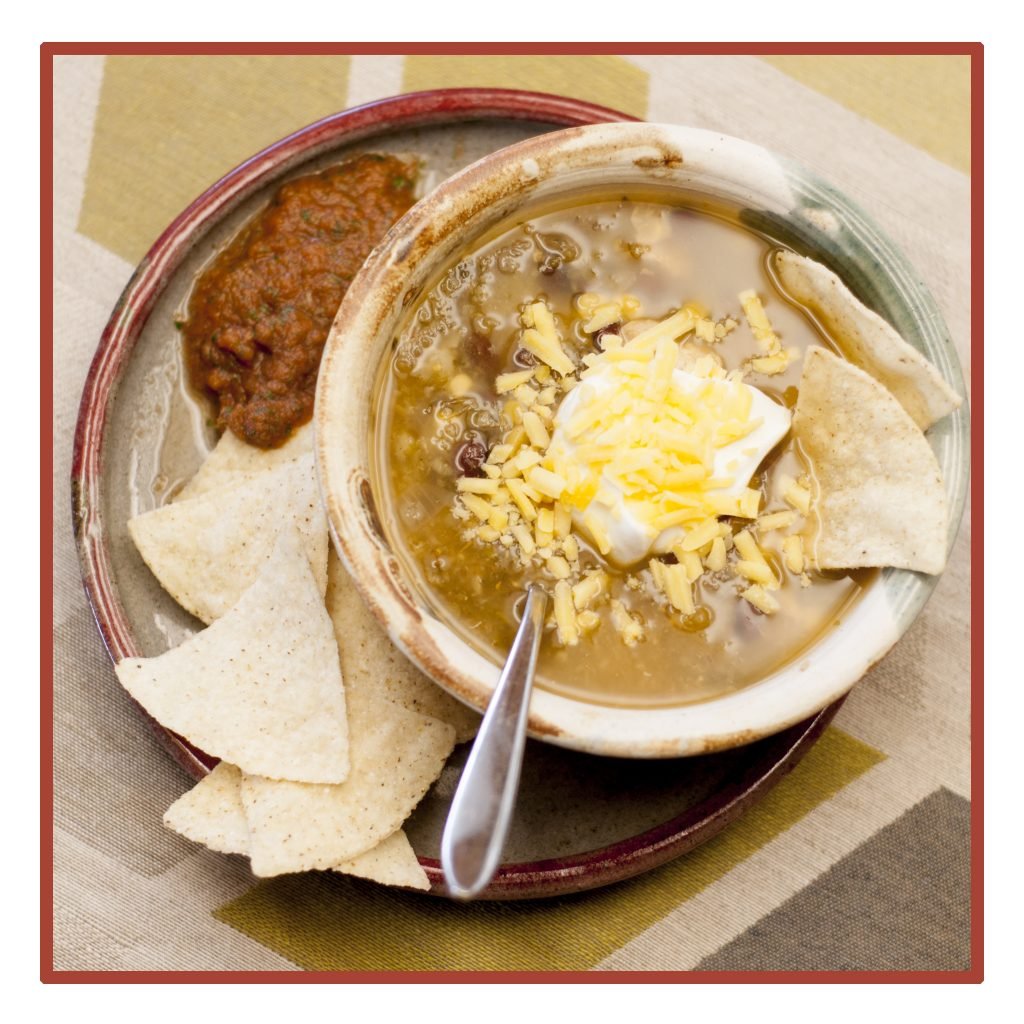 This recipe is modified from The Low-Fat Living Cookbook by Leslie L. Cooper.
Basically, once again, the chicken chili recipe instructions call for you to throw all ingredients in a pot. (with the exception of the cornstarch)
Bring the mix to a rolling boil for 3-5 minutes, or whatever your personal thermal cooker recommends. Then remove some broth, and mix with cornstarch, then return to pot, and boil for one minute to thicken.
Put the lid on, seal the unit, and cook for 3-8 hours. Then serve your hot and delicious chicken chili with shredded cheese, sour cream, and chips or tortilla strips. This meal is healthy and oh-so-flavorful. Enjoy!
Thermal Cooker White Chicken Chili – A Slow-Cooked Family Favorite
Ingredients
2 T olive oil
2 lb boneless, skinless chicken breasts, bite-sized
1 large onion, finely chopped
20 tomatillos, husked, washed, finely chopped
2 small or 1 large jalapeno, seeded and finely chopped
12 cloves minced garlic
4 tsp chili powder
2 tsp oregano
2 tsp sugar
1 tsp cumin
1 tsp salt
6 cups chicken or veggie broth
4 cans drained pinto or black beans, or a mix.
1 can corn kernels
1 finely chopped bunch fresh cilantro
2 T lime juice
1/2 tsp ground black pepper
2 T cornstarch
Instructions
Put all ingredients except cornstarch into large pot of thermal cooker and bring to a rolling boil for 3 minutes. Remove about 1/2 C of broth, mix together with cornstarch, and return to pot, boiling for 1 minute to thicken. Remove pot from heat, put on the lid, and seal it into the thermal cooker. Leave for 3-8 hours. Serve hot with tortilla chips or strips, shredded cheese, and sour cream.
7.8.1.2
11
http://thermalcookerrecipes.com/thermal-cooker-white-chicken-chili/
Copyright ThermalCookerRecipes.com
Thermalcookerrecipes.com provides recipes as a resource and educational tool only, and makes no food safety guarantees. We are not liable for any failure to meet food safety standards that may arise in your thermal cooking. We make every effort to ensure that our recipes meet established food safety standards. But all thermal cookers are not created equal, and there are many variables at play resulting in the temperatures reached and maintained in your thermal cooker. Always follow the manufacturer's instructions for your specific brand and model of thermal cooker, even if that means tailoring our recipes.
If you are in doubt, please consult the FDA page on foodborne illness for safe cooking temperatures and other safety tips. And use a food thermometer to ensure that your food has been cooked and stored at a safe temperature.
Disclosure: This post may contain affiliate links. This means, we may receive a small commission if you choose to purchase something from a link we post. Don't worry, it costs you nothing. Thank you for supporting our website!