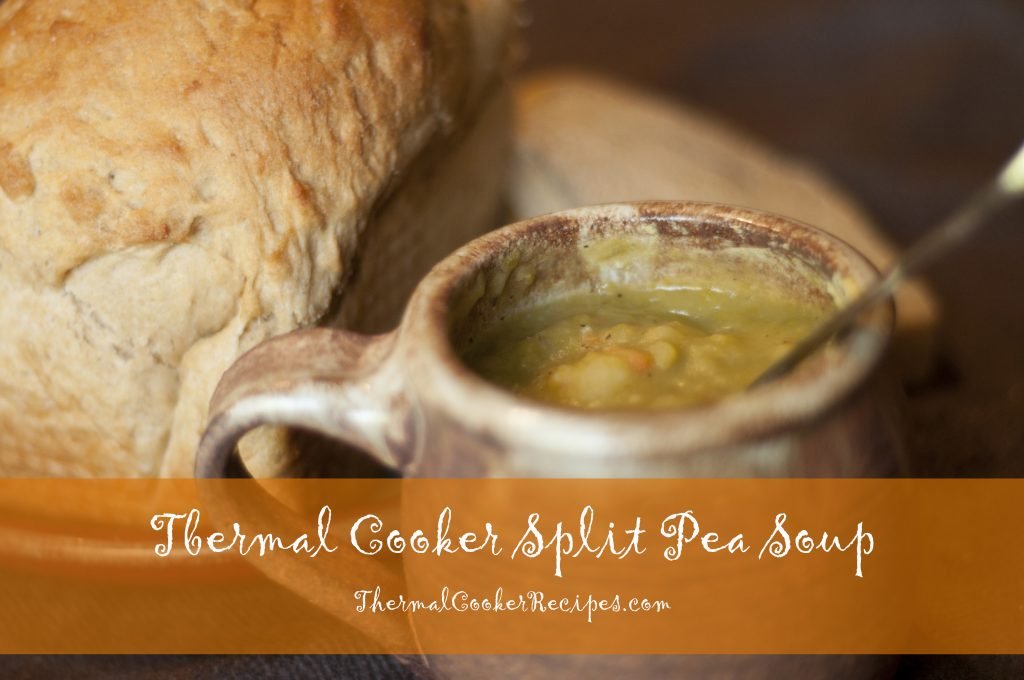 Seriously. It'll take me longer to put up this post than it will take you to make dinner with this recipe. And when you read how not long this post is, you'll know that's saying something. And it's healthy, hearty, delicious, and vegetarian. Unless you add chopped up ham (which I highly recommend you do.)
Add the ingredients to the large inner pot of your thermal cooker.
Stir, and bring to a three minute rolling boil.
Put the pot inside the thermal cooker, and put the lid on. Seal the unit.
Allow to cook for 3-8 hours, and then give your piping hot, perfect soup a stir with a whisk if you'd like it chunkier, or with a wand blender for a few seconds if thick and smooth is your favorite.
Serve with hot, crusty bread, and everyone will know you for the domestic goddess you are. (Or whip this baby out at a pot luck or picnic with a couple of loaves of French bread you bought on the way. Still goddess-level powers.)
Enjoy this one. I can taste it already. Mmmmmm.
Thermal Cooker Split Pea Soup—Hearty, Healthy Comfort Food in Ten Minutes Prep Time
Ingredients
9 Cups broth (vegetable or chicken or stock from ham hock)
3 Cups dried green split peas (rinse well first)
1 large chopped onion
2 C chopped carrots
4 chopped celery stalks
1/2 Tbsp minced garlic
1 tsp dried basil
1/2 tsp dried cumin
1 tsp salt
1/2 tsp black pepper
3 C small chopped new red potatoes with skins on
Instructions
Bring all ingredients to a 3 minute rolling boil in your inner pot. Place pot inside of thermal cooker, put on lid, seal unit. Cook for 3-8 hours, and when ready to serve, whisk soup to mix in split peas, or run a wand blender for a couple of bursts for a more uniform texture.
7.8.1.2
9
http://thermalcookerrecipes.com/thermal-cooker-split-pea-soup-hearty-healthy-comfort-food-ten-minutes-prep-time/
Copyright ThermalCookerRecipes.com
Thermalcookerrecipes.com provides recipes as a resource and educational tool only, and makes no food safety guarantees. We are not liable for any failure to meet food safety standards that may arise in your thermal cooking. We make every effort to ensure that our recipes meet established food safety standards. But all thermal cookers are not created equal, and there are many variables at play resulting in the temperatures reached and maintained in your thermal cooker. Always follow the manufacturer's instructions for your specific brand and model of thermal cooker, even if that means tailoring our recipes.
If you are in doubt, please consult the FDA page on foodborne illness for safe cooking temperatures and other safety tips. And use a food thermometer to ensure that your food has been cooked and stored at a safe temperature.
Disclosure: This post may contain affiliate links. This means, we may receive a small commission if you choose to purchase something from a link we post. Don't worry, it costs you nothing. Thank you for supporting our website!